EAST TENNESSEE GEOLOGICAL SOCIETY
ETGS/AIPG Newsletter
January 2001
---
EAST TENNESSEE GEOLOGICAL SOCIETY
and
TENNESSEE SECTION of the
AMERICAN INSTITUTE OF PROFESSIONAL GEOLOGISTS
In this issue...
ETGS/AIPG January Meeting
January Presentation
December Meeting Summary
Door Prizes Awarded at December Meeting and Holiday Party
Web Resources: Professional Geology in Kentucky
Web Resources: Online Maps
Contact Information

EAST TENNESSEE GEOLOGICAL SOCIETY
and
TENNESSEE SECTION of the
AMERICAN INSTITUTE OF PROFESSIONAL GEOLOGISTS
ETGS/AIPG MEETING

Monday, January 8, 2001
11:45 am - 1:00 pm
Ryan's Family Steak House
401 South Tulane Avenue
(at Illinois Avenue)

Diel Chemical Cycles in a Mine-Affected Mountain StreamProject
Annett B. Sullivan
Environmental Sciences Division, ORNL
e-mail: 4as@ornl.gov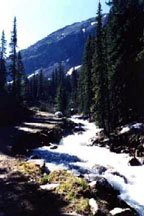 Abstract
Solute concentrations can vary significantly over the 24-hour (diel) timescale. Understanding the processes that control these cycles is important for environmental regulators and scientists who sample sites over longer periods of time. For instance, if a study involves one water sampling per day, then diel concentration cycles could introduce significant scatter into that dataset. The timing and controlling processes of these short-term cycles can differ, depending on chemical, physical and biological conditions.
Peru Creek is a mine-affected stream located in the Colorado Rocky Mountains; there, three different processes were found to control diel cycling of element concentrations. The concentrations of SO42-, Mn, Zn, Si, Mg, K and Ca were primarily controlled by hydrology, particularly melting of snow. Diel Fe cycles were produced by photochemical reduction of Fe(III) species and reoxidation during the night. Nitrate cycling was controlled by its uptake by instream vegetation during daylight hours.
---
by Carla R. Sparks
The December meeting (and holiday party) of the ETGS and the The East Tennessee Chapter of AIPG was conducted in Knoxville at the community room of Sunchase Apartments. Richard Hopkins presented his work with seismic refraction surveys at the Casitas Dam Borrow Area A, near Ventura, California. The seismic refraction surveys were concentrated in areas identified as potentially having 3.3 million cubic yards of borrow material for a proposed remediation. The seismic refraction surveys were conducted to provide information about the configuration of the top of bedrock for both the Tertiary age Sespe and Vaqueros Formations (limestone, siltstone and sandstone) and possible weathered zones above the bedrock interface After reviewing the interpretations of the seismic refraction data acquired, four locations for bulldozer rippability testing were selected. The test sites were selected to evaluate rippability conditions for both the Sespe and Vaqueros Formations. Judgements about rippability are formed by comparing the interpreted seismic velocity and published ripper performance charts and refer to the deepest seismic layer interpreted (e.g.; seismic layer 3). Subsurface condition information gained from the rippability testing would also be used to quantify the seismic refraction interpretations in areas not ground-truthed. For a complete abstract, please see the December News Klippe.
---
DOOR PRIZES AWARDED AT DECEMBER MEETING AND HOLIDAY PARTY
by J. Brad Stephenson
In an effort to encourage membership renewals and reward meeting attendance, several door prizes were awarded at the December 4 meeting and holiday party. The prizes and winners were as follows.
Dinner for Two at the Italian Market & Grill
(WINNER: Praveen Srivastava, IT Corporation)

A Geologic Trip across Tennessee by Interstate 40 by Harry L. Moore
(WINNER: Jeff Gamey, ORNL Environmental Sciences Division)

A Roadside Guide to the Geology of the Great Smoky Mountains National Park by Harry L. Moore
(WINNER: Mark Maki, IT Corporation)

Hydrogeology and Engineering Geology of Sinkholes and Karst-1999: Proceedings of the Seventh Multidisciplinary Conference on Sinkholes and the Engineering and Environmental Impacts of Karst by Barry F. Beck & Art Pettit
(WINNER: Larry Benson, Barge Waggoner Sumner & Cannon)


Door prize donated to ETGS by P.E. LaMoreaux & Associates, Inc. (PELA)
Multidisciplinary Conferences on Sinkholes and…Karst

Mini Mag-Lite flashlight
(WINNER: Mark Joop, IT Corporation)
---
WEB RESOURCES: PROFESSIONAL GEOLOGY IN KENTUCKY
by J. Brad Stephenson
The November 2000 issue of Kentucky Geologists reviews two web sites that may be of interest to geologists who practice in that state. The Kentucky Section of the American Institute of Professional Geologists (AIPG) has a web site at www.professionalgeologist.org. The web site of the Kentucky Society of Professional Geologists can be found at www.kspg.org.
---
by J. Brad Stephenson
Topographic Maps
The May 2000 issue of The News Klippe includes an introduction to TopoZone (www.topozone.com). This service provides free, online viewing of U.S. Geological Survey topographic maps.
However, if you find you need an electronic copy of a topo map-i.e., a file on your computer-check out the GIS Data Depot. Through this site, you can download topo maps in TIF format for FREE! (For a small fee, you can order the same information on a CD). Simply select the state and choose "countywide data". Then select the county of interest and the appropriate map type. For example, select "Digital Raster Graphics (DRG) - 24" to obtain a list of the 1:24,000-scale topographic quadrangle maps in that county. Click on "download" beside the map you want, and follow the instructions.
Once downloaded, the file must be "unzipped" using a decompression utility-e.g., WinZIP. Finally, open and modify the file as needed using almost any graphics or photo-editing software.
U.S. Geologic & Shaded-Relief Maps
You are probably familiar with the geologic map of the U.S. (compiled by P.B. King and H.M. Beikman in 1974) and the digital shaded-relief map of the U.S. (created by G.P. Thelin and R.J. Pike in 1991).
Now, a new USGS web site makes it possible to explore these maps by geologic feature, rock age, state, or physiographic region. You can even fly around the geologic map, zooming in and out at will. Finally, you can watch the two maps merge into a single image.
The web site, A Tapestry of Time and Terrain: The Union of Two Maps-Geology and Topography, can be viewed at tapestry.usgs.gov. (This site appears to be inaccessible at times during the evenings.)
---
EAST TENNESSEE GEOLOGICAL SOCIETY (ETGS)
Post Office Box 6193
Oak Ridge, Tennessee 37831-6193
http://www.discoveret.org/etgs
TENNESSEE SECTION of the
AMERICAN INSTITUTE OF PROFESSIONAL GEOLOGISTS (AIPG)
http://www.aipg.org
President, Chris Maner, Tenn Dept of Env and Conserv (TDEC), cmaner@mail.state.tn.us
Secretary/Treasurer, Ken Haislip
ETGS/AIPG Liason, John Hofer, jhofer@theitgroup.com
---
| | |
| --- | --- |
| | Page updated May 20, 2018 |