EAST TENNESSEE GEOLOGICAL SOCIETY
December 2023 Field Trip
---
Saturday, December 9, 2023
8:30 -5:00 pm
2023 Fall/Winter Field Trip

Geology of the Oak Ridge Area

Trip Leader: Dr. Robert Hatcher




Field Trip Agenda Includes:
1. Visit to notable features, outcrops and quarries.
2. Structural interpretations by Dr. Hatcher.
3. Stratigraphic section descriptions.
4. Because of the size of the Oak Ridge Reservation and time required to get around, this will be a full day of activities and stops (anticipated 8 CEUs/PDHs).
Field trip guidebook will be provided.
We will utilize volunteer drivers from the group for transportation. At the time of registration, please indicate if you are willing to drive and how many riders you can carry. Riders are asked to make a contribution toward gas expense. The only break during the day will be for lunch, and in service of keeping costs low, attendees are asked to bring their own sack lunch & drinks for the day.
Significant rainfall may require postponement of the trip. Light rain will not cancel the trip. Because it is local, it will not be called off in advance.
Field trip cost is $20, which will help defray the cost of guidebooks and name tags. The standard ETGS waiver form is here. You can complete the waiver form and email it to etgs@live.com or print and bring it to the departure point on the day of the field trip.
Final notification of attendance is no later than Thursday, November 30, 2023. Please respond as early as practical for planning purposes to etgs@live.com.
SAFETY: Steel-toe boots, hard hat, and safety glasses are not required, but are always a good idea. Sandals, flip-flops, open-toe shoes, open-heel shoes, and shoes of mesh or other light fabric construction are strongly discouraged due to the rough terrain and hard surfaces. If you anticipate using a rock hammer, please bring and use your safety glasses.
SUMMARY AND ADDITIONAL DETAILS:
DATE: 9 December 2023 (Saturday)
RAIN DATE: To Be Determined (if necessary)
DEPARTURE TIME (Eastern): Please arrive between 8:00 and 8:15 a.m. to pay your fee, pickup your guidebook, and resolve other orientation/logistical details. Don't forget to bring your membership dues if you still need to renew. We will depart at 8:30 a.m. sharp.
RETURN TIME (Eastern): about 5:00 pm (depending on traffic, discussion, other variables)
MEETING LOCATION: We will meet and depart from the parking lot of the Oak Ridge Walmart, 373 South Illinois Ave., Oak Ridge, TN 37830. It is a large lot. Specifically, we will meet along the farthest west side of the lot (closest to Dick's Sporting Goods).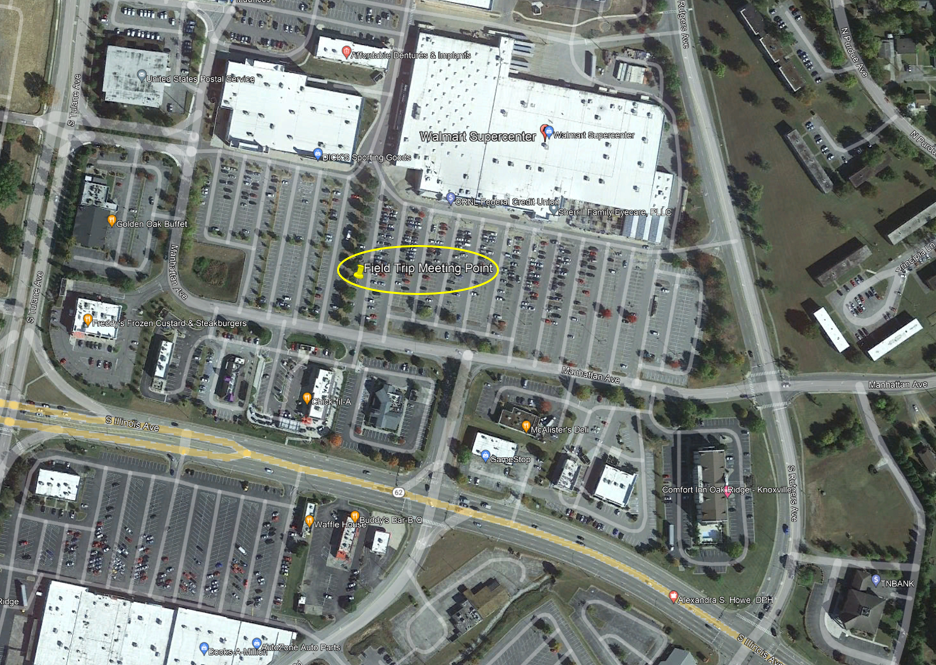 REGISTER/SIGN UP: email etgs@live.com with name and number of attendees, a cell phone contact number, and if you are willing to drive (and number of passengers you can carry) BY THURSDAY, NOVEMBER 30, 2023.
FORMS: Each participant must read, agree to, and sign a liability waiver, which also serves as the registration form. Completed forms must be submitted (along with the field trip fee) before we depart from the Walmart parking lot. The field trip fee is $20, payable by cash or check to ETGS, and is intended to cover the cost of producing the guidebooks. You may, but it is not necessary to mail your registration/liability form in prior to the trip. However, it is necessary to notify ETGS no later than Thursday, November 30, 2023 by e-mail (at etgs@live.com) that you plan to attend. Please include the name of each participant and a cell-phone number where you can be reached on the morning of the trip, in case last-minute changes/cancellations are necessary. Specimen collection will be allowed at the discretion of the field trip leader.
TRANSPORTATION: Safety and access considerations dictate that we minimize the number of vehicles. Final vehicle decisions will be made morning of departure. Please consider volunteering to drive, especially if you have a larger vehicle (number of seats).
FOOD & DRINKS: Each participant is responsible for bringing his/her own food and drinks. In addition to your lunch, be sure to bring enough water to get you through the day. Bathroom facilities will be available at the beginning and end of the trip at Walmart. Local restaurants gas stations may be visited during the trip, if convenient, and on an as needed basis.
WEATHER: Be sure to check the weather forecast and dress appropriately. Light rain will not cancel this trip. Please check your e-mail the evening before the trip in case the weather requires the trip be rescheduled.
If you have any questions about the trip, please direct them to: etgs@live.com
---

ETGS News:
ETGS Coffee & Beer Mugs...

Sure to be a collector's item!
---
We look forward to seeing you at the next meeting.

ETGS is a volunteer organization. We need your help to continue serving those interested in the geology of East Tennessee and beyond. Please email us at etgs@live.com if you would consider assisting in one of the following open positions. It is a great opportunity to expand your personal and professional network.

President
Tony McClain
Vice President
David Carlone
Secretary
J. Brad Stephenson
Treasurer
Seaira Stephenson
Webmaster/Social Media Coordinator
Bob Gelinas
---
| | |
| --- | --- |
| | Page updated November 13, 2023 |