EAST TENNESSEE GEOLOGICAL SOCIETY
March 2022 Virtual Meeting
---
Monday, March 14, 2021
6:00 - 7:30 pm
Note: ETGS members will receive an email with info for logging into the meeting.

March Presentation

The Boone Dam Internal Erosion Remediation Project

By

Chris L. Saucier, P.E., TVA

Abstract1

Boone Dam is a hydroelectric and flood control dam on the South Fork Holston River on the border between Sullivan County and Washington County in the U.S. state of Tennessee. It is one of three dams on the South Fork Holston owned and operated by the Tennessee Valley Authority, which built the dam in the early 1950s as part of greater efforts to control flooding in the Tennessee River watershed. The dam impounds the 4,500-acre (1,800 ha) Boone Lake, and its tailwaters are part of Fort Patrick Henry Lake. The dam and associated infrastructure were listed on the National Register of Historic Places in 2017.

Boone Dam is located 19 miles (31 km) above the South Fork Holston River's confluence with the North Fork Holston River (which forms the Holston River proper). The Watauga River joins the South Fork Holston almost immediately upstream from the dam, creating a V-shaped reservoir that extends for 17 miles (27 km) up the South Fork Holston (all the way to Bluff City) and for 15 miles (24 km) up the Watauga. The Sullivan-Washington county line follows the reservoir for most of its Watauga span. Boone Dam is 31 miles (50 km) downstream from South Holston Dam and 10 miles (16 km) upstream from Fort Patrick Henry Dam.

Boone Dam is a concrete gravity-type dam 160 feet (49 m) high and 1,532 feet (467 m) long, and has a generating capacity of 81,000 kilowatts. While the main section of the dam is a concrete structure, the northern half of the dam consists of a 750-foot (230 m) earth-and-fill structure that seals off the floodplain adjacent to the main river channel. The dam's overfall spillway has five radial gates with a combined maximum discharge of 137,000 cubic feet per second (3,900 m3/s). Boone Lake has 168 miles (270 km) of shoreline and a flood storage capacity of 75,829 acre-feet (93,534,000 m3). The reservoir's operating levels vary by about 20 feet (6.1 m) in a typical year.

The construction of Boone Dam and its reservoir required the purchase of 5,160 acres (2,090 ha) of land, 1,363 acres (552 ha) of which had to be cleared. 152 families, 104 graves, and 18 miles (29 km) of roads had to be relocated, and three new bridges were built. The outbreak of the Korean War brought increased support from federal entities, and work progressed without interruption. Boone Dam was completed and its gates closed December 16, 1952. The dam's first generator went online March 16, 1953, its second generator went online June 12, 1953, and the third went online September 3, 1953. The total cost of the Boone project was $27.7 million.

On October 20, 2014, during an informal inspection, a sinkhole was discovered at the toe of the dam that allowed water to seep through. Consequently, a decision was made to start lowering the water level in the lake earlier than normal as a cautionary measure.

On July 30, 2015, a media briefing was held discussing the results of a formal inspection of the dam. Internal erosion was found to be the cause of the seepage. A wide range of methods of repairing the dam were considered. A cut-off wall/seepage barrier was the preferred option. After impact studies were conducted, work started on the repair in 2016 and was estimated to take 5 to 7 years to complete, with a finish date anticipated in summer of 2022. The repair will cost approximately $200M.
1summarized from Wikipedia
Boone Dam Location Map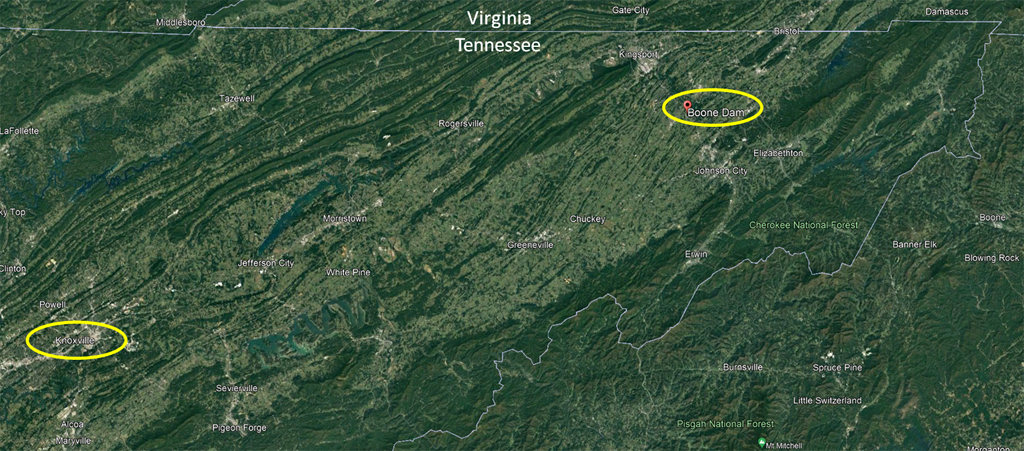 Biography

Chris Saucier is a Principal Project Manager at the Tennessee Valley Authority and Technical Director of the Boone Dam Internal Erosion Remediation Project. During ten years of employment with the TVA, Chris worked as a geotechnical specialist within TVA's Dam Safety Section, eventually assuming the role of Senior Manager of Dam Safety Technical Services. Chris came to TVA with 22 years of experience in engineering practice and research, including five years as the Vice President of Operations for a geotechnical engineering consulting firm and five years as an Assistant Professor of Civil Engineering. Chris holds a bachelor's degree in civil engineering from Mississippi State University, as well as advanced civil engineering degrees from Mississippi State University and The Johns Hopkins University.

Greetings! We hope you will join us for the next ETGS virtual meeting, and that you, your family, and your colleagues are staying healthy and well.
As a courtesy, please mute your cell phone or the microphone in your laptop/tablet to minimize background noise and feedback echoes. We will try to mute all participants until the presentation is finished. Please use the chat feature to type comments or questions during the presentation. We recommend that you send questions for the speaker to "everyone" so all participants can see the question. After the presentation, the speaker will answer questions. During this Q&A period, you may unmute if you wish to ask a question verbally.
We will create an attendance list based on the participant names we can see during the meeting. This is helpful for those who need to document participation to support Professional Geologist registrations. It is not always possible to tell who is participating, especially for those joining by phone, so please email your name to etgs@live.com to be listed on the attendance sheet. Let us know exactly how your name should appear on the list.
Thank you for your patience and understanding as we continue adapting to this virtual format. As always, we welcome and appreciate your feedback and suggestions for improvement.
---
| | |
| --- | --- |
| | Page updated April 11, 2022 |