EAST TENNESSEE GEOLOGICAL SOCIETY
ETGS/AIPG Newsletter
November 2000
---
EAST TENNESSEE GEOLOGICAL SOCIETY
and
TENNESSEE SECTION of the
AMERICAN INSTITUTE OF PROFESSIONAL GEOLOGISTS
In this issue...
ETGS/AIPG November Meeting
November Presentation
October Meeting Summary
ETGS Officers for 2001
Earth Science Week in East Tennessee
Membership Renewal
Contact Information

EAST TENNESSEE GEOLOGICAL SOCIETY
and
TENNESSEE SECTION of the
AMERICAN INSTITUTE OF PROFESSIONAL GEOLOGISTS
ETGS/AIPG MEETING

Monday, November 6, 2000
11:45 am - 1:00 pm
Ryan's Family Steak House
401 South Tulane Avenue
(at Illinois Avenue)

Miocene Fossils Discovered on Tennessee DOT Road Project
Harry L. Moore
Geologist & Manager
Geotechnical Engineering (Knoxville)
Tennessee Department of Transportation
e-mail: hmoore@mail.state.tn.us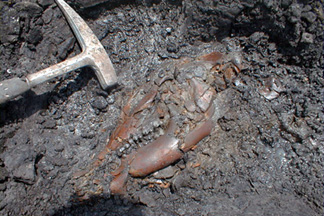 Tapir skull (left jawbone and teeth) in soft clay of the Gray Fossil Site, Tennessee.
Photograph by Harry Moore, Tennessee DOT

Abstract
In May of 2000 road construction crews working for the Tennessee Department of Transportation (TDOT) unearthed soft, gray clay deposits during the widening of a state highway in Gray, Tennessee. The road project on State Route 75 is less than one mile long and is located in Washington County in upper East Tennessee near Johnson City. About 500 feet of the project crossed a deposit of lacustrine sediments. Geotechnical concern surrounded the soft clay deposit and how to mitigate the unstable subgrade material.
When skulls, backbones, ribs and leg bones of mammals began to be uncovered, TDOT stopped work in the affected area to assess the site. A team was formed in July to investigate and determine the significance of the deposit. It was first thought to be of Pleistocene age, but subsequent identification of rhinoceros fossils by university specialists changed the date to Miocene (at least 4.5 to 5 million years old and possibly older). The sediments are interpreted to have been deposited in a sinkhole-lake or pond.
The site is significant because it preserves valuable information about the climate, vegetation, animals and sedimentation in the environment in which these fossils were deposited. The road has been realigned to avoid the fossil deposit at the direction of Tennessee Governor Don Sundquist. State Archeologist Nick Fielder is directing all research efforts related to the site, which is now known as the Gray Fossil Site.
The discovery and protection of the Gray Fossil Site has required cooperation among a multidisciplinary group of professionals, including engineers, geologists, paleontologists, archeologists, biologists, and university researchers, as well as political/governmental support. Success of future efforts to protect and study the site depend on continued communication and cooperation among the professionals, local citizens, interest groups and politicians involved.
---
by Tony Tingle
The October meeting of the ETGS and the The East Tennessee Section of AIPG was conducted in Knoxville at Ryan's Family Steak House. The turnout was large to hear Dr. Bill Doll of ORNL discuss his work with airborne geophysical methods using a boom-mounted helicopter platform. Particular methods included airborne magnetic measurements as well as electromagnetic techniques. Results indicate that the airborne magnetic techniques can detect ferrous metals as small as 2 kg. Further information on this presentation can be found in the abstract presented in last month's News Klippe. ETGS business discussed during the last meeting included a petition for support for Earth Science Week from Dr. Don Byerly and a discussion on the election of new officers for 2001. Although new officers were to be elected during the October Meeting, this action was deferred until November.
---
by J. Brad Stephenson
As discussed in previous issues of the News Klippe, it is time to elect officers for the 2001 term. Although elections were originally planned for the October meeting, no nominations had been submitted. Therefore, voting will take place at the November meeting. This will allow newly elected officers time to "learn the ropes" before taking office in January.
The following positions must be filled for 2001. The offices of President (Brad Stephenson), Vice President (Brian Murray), and Secretary/Treasurer (Seaira Stephenson) are being vacated at the end of this year. Those holding office as Membership Director (Jim Morgan), Newsletter Editor (Tony Tingle), and Webmaster (Carla Sparks) may be re-elected to their current positions (or different offices).
President: serves as the primary representative of the Society; presides over monthly meetings; and coordinates or delegates all official functions.



Vice President: presides in the absence of the President; arranges technical program for monthly meetings, including communication with guest speakers and meeting facility management.



Secretary/Treasurer: records meeting proceedings; manages membership database and other Society records; maintains state registration; keeps all financial records; collects dues; disburses funds; and maintains the Society bank account.



Membership Director: assists the Secretary/Treasurer with membership issues-e.g., updating membership records and serving as a general point of contact for inquiries about Society membership.



Newsletter Editor: coordinates the preparation of announcements and articles by members and officers; assimilates them to produce monthly issues of The News Klippe and other Society communications; and transfers materials electronically to the Webmaster for electronic publication.



Webmaster: coordinates development and maintenance of the web site; posts Newsletters and announcements; and provides for site-wide consistency across all Society web pages prepared by the Webmaster and other contributors.
A list of potential nominees has been sent to each eligible voter, and an updated list will be available at the November meeting. Please consider volunteering or nominating someone to fill one or more of these offices. The people in these positions work together as a team, and past officers and other members are always willing to help you get the job done.
Voting will take place at the November meeting. Nominations must be received by then. If you cannot attend, you may volunteer or make a nomination by phone or e-mail to any of the officers listed at the end of this issue. Please attend and help determine the future of ETGS!
---
EARTH SCIENCE WEEK IN EAST TENNESSEE

by Seaira Stephenson
Thanks to everyone for your interest and support of Earth Science Week. Our local event was held at the University of Tennessee Department of Geological Sciences on October 12th. Many dedicated volunteers enabled Knox County middle and high school students to learn more about the geosciences and the appreciation of our unique planet. ETGS should be proud of our fund raising efforts, as we were able to gather donations of over $700 in support of this effort. These donations will allow us to pay for this year's expenses and get a good start on expanded efforts for next year.
Thanks again for your interest and support and especially to the following corporate sponsors:
Science Applications International Corporation (SAIC)
MARRICH, Inc.
Miller Drilling Company, Inc.
To learn more about Earth Science Week, visit our website at http://www.discoveret.org/etgs/ut-esw.htm. If you would like to volunteer your time for next year's Earth Science Week, please contact Dr. Don Byerly (dbyerly@utk.edu).
---
MEMBERSHIP RENEWAL
Fabulous Door Prizes at December Meeting for Members Only!
by J. Brad Stephenson
ETGS serves the geological community of East Tennessee. Through monthly meetings, field trips, the News Klippe, and a web site, the Society provides local geologists with opportunities to stay abreast of technical and professional trends in the geosciences, as well as opportunities for social interaction and networking.
Joining ETGS is the best way to stay informed about issues of interest to the local geological community. As a member, you will receive notifications of monthly meetings, field trips, and other Society activities. You will also be eligible for inclusion in the 2001 membership directory. In addition to furthering your own professional development by attending our monthly presentations, you will also be supporting geoscience education in the local schools. (See the article about Earth Science Week elsewhere in this issue.)
If you have not already done so, please join or renew your membership at the November meeting. Doing so will extend your membership through the end of 2001. Membership dues remain a bargain at just $15 per individual, $20 per couple, and $5 per student.
Companies are encouraged to submit dues on behalf of geoscientists in their East Tennessee offices. Check to see if your company will support you, your colleagues, and the local geological community in this manner.
When you join or renew, please complete a membership form so that we can keep the society's records updated. In particular, please make sure we have at least one current e-mail address. Membership forms are available at each meeting, as well as online at http://www.discoveret.org/etgs/member.htm.
Several DOOR PRIZES will be awarded at the December 4 meeting and holiday party. To be eligible to win, you must be present and have paid your dues for 2001 at or before the meeting. Door prizes to be awarded include at least one of each of the following.
Dinner for Two at the Italian Market & Grill



A Geologic Trip across Tennessee by Interstate 40 (1994, 339 p.) (autographed by author and ETGS member, Harry L. Moore)



A Roadside Guide to the Geology of the Great Smoky Mountains National Park (1988, 178 p.) (autographed by author and ETGS member, Harry L. Moore)



Mini Mag-Lite flashlight
---
EAST TENNESSEE GEOLOGICAL SOCIETY (ETGS)
Post Office Box 6193
Oak Ridge, Tennessee 37831-6193
http://www.discoveret.org/etgs
TENNESSEE SECTION of the
AMERICAN INSTITUTE OF PROFESSIONAL GEOLOGISTS (AIPG)
http://www.aipg.org
President, Chris Maner, Tenn Dept of Env and Conserv (TDEC), cmaner@mail.state.tn.us
Secretary/Treasurer, Ken Haislip
ETGS/AIPG Liason, John Hofer, jhofer@theitgroup.com
---
| | |
| --- | --- |
| | Page updated May 20, 2018 |