Big South Fork National River and Recreation Area - 1999 Autumn Field Trip
Big South Fork National River and Recreation Area
Tennessee & Kentucky
and
Pickett State Park
Tennessee
November 13, 1999
---
Fourteen eager hikers participated in a series of short geology hikes, including twelve people and two canines. (That's 32 feet!) Five hikers (all human) also camped in the Bandy Creek Campground. The weather was fantastic with a clear, blue sky and temperatures in the 70s.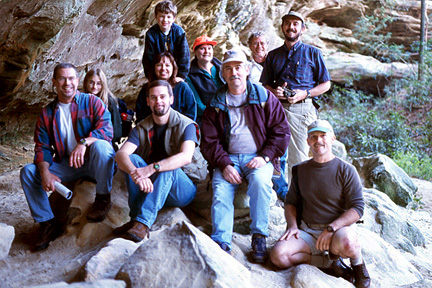 Preliminary Group Photo
(minus two people & two dogs)
Hazard Cave, Pickett State Park, Tennessee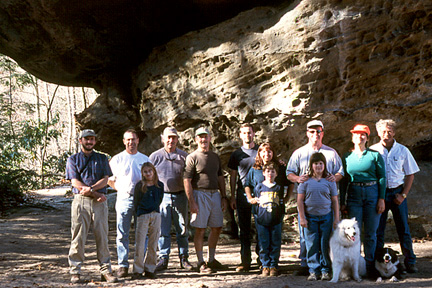 Final Group Photo
(all twelve people & two dogs)
Twin Arches, Big South Fork National River and Recreation Area, Tennessee
---
All photos by Brad Stephenson, unless otherwise noted.
Hazard Cave, a magnificent sandstone shelter in Pickett State Park, Tennessee.
Impressive sandstone features of the Twin Arches area,
Big South Fork National River and Recreation Area, Tennessee.
---
Members of the East Tennessee Geological Society (ETGS) gathered for a series of geology hikes in Big South Fork National River and Recreation Area and Pickett State Park. These neighboring parks are located atop the scenic Cumberland Plateau on the Tennessee-Kentucky border. Both parks provide numerous opportunities for learning more about the geology of our region.
Three short hikes took us to Hazard Cave, Indian Rockhouse, Twin Arches, and a series of large sandstone bluffs and rock shelters. Each location features impressive displays of Pennsylvanian-age sandstones and conglomerates. Patterns of jointing, crossbedding, and lisegang banding add to the natural beauty of the rock. The effects of weathering and erosion are easily observed in the arches and shelters, as well as in the dramatic gorges incised into the "layer-cake" geology of the plateau. The rock shelter at Hazard Cave is so deeply cut into the bluff, that near-total darkness prevails in the rear portions of this feature even at midday. Hazard Cave provides habitat for a recently discovered population of "glowworms," which are really the larvae of the fungus gnat (Diptera mycethoilidae) [The Official Guide to the National Park Service Activities and Events, Big South Fork, 1999, p. 16).
ETGS extends special thanks to Harry L. Moore, who graciously contributed material relevant to the area from his book A Geologic Trip across Tennessee by Interstate 40 (University of Tennessee Press, 1994). Mr. Moore is Head of the Geotechnical Section for Region 1 of the Tennessee Department of Transportation. He is also the author of A Roadside Guide to the Geology of the Great Smoky Mountains National Park (University of Tennessee Press, 1988). Combined with interpretive information available from the parks and the expertise of those on the trip, Mr. Moore's material on Twin Arches provided the foundation for our exploration of the area. Some general information is also presented in an online brochure provided by the National Park Service.
---
| | | |
| --- | --- | --- |
| | | Page updated May 19, 2018 |