Geology of the Western Escarpment of the Cumberland Plateau in the Vicinity of Fall Creek Falls State Park - 2004 Spring Field Trip
Van Buren County, Tennessee
Sunday, May 16, 2004
Trip Leaders:
John Hoffelt, Tennessee Department of Environment and Conservation
Stuart Carroll, Fall Creek Falls State Park, Tennessee
Rich Lounsbury, P.E. LaMoreaux & Associates, Inc.
Mark Joop, Shaw Environmental & Infrastructure, Inc.
---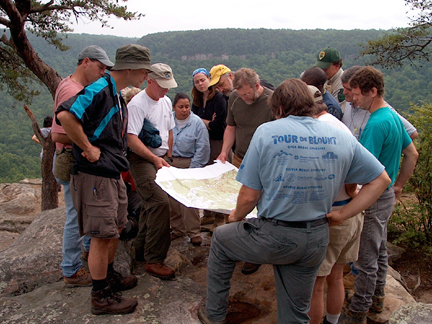 Beginning the day at Fall Creek Falls State Park,
ETGS members orient themselves to the area's geomorphology.
---
Photos by Rich Lounsbury, except where otherwise noted.
Some spent Saturday night at Fall Creek Falls prior to Sunday's trip.
LEFT: Field trip participants gathered to plan the day's activities.
RIGHT: Trip leaders John Hoffelt (left) and Stuart Carroll (right) introduce the area's geology and ecology.

Scenic overlooks in Fall Creek Falls State Park provided ideal opportunities to observe the stratigraphy of the Cumberland Plateau and to witness the effects of the geomorphological processes at work along its western escarpment.
With a height of 256 feet, Fall Creek Falls is reportedly the highest aboveground waterfall in the eastern United States.

Using geologic maps, geomorphic features observed from the overlooks were related to the development of karst features along the western escarpment of the Cumberland Plateau.
The group enjoyed lunch on the rocks (Mississippian-age Monteagle Limestone) in preparation for going underground.


Photo by Andy Howe
(width of photo ~3 feet)


Photo by Andy Howe
(width of photo ~3 inches)

LEFT: Subterranean breakdown blocks reveal depositional ripple marks along bedding-plane partings.
RIGHT: A moisture-laden bat at home on the wall.

---



The following photos show trip participants getting "between a rock and a hard place" to explore the geology beneath the Cumberland Plateau.





The End!
For more information on caves, please contact your local grotto of the National Speleological Society.
ETGS thanks Shaw Environmental & Infrastructure, Inc. for sponsoring the reproduction of the guidebook for this field trip!
---
| | | |
| --- | --- | --- |
| | | Page updated May 19, 2018 |