French Broad River & Hot Springs Window - 1999 Summer Field Trip
North Carolina
June 12, 1999
---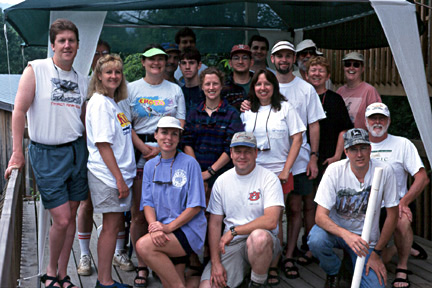 Nineteen river rats eagerly anticipate the adventures ahead.
Photo by NOC Staff.
---
Field trips give us a chance to get out in the field with a local expert and enhance our understanding of the world around us. The photographs below were made during our field trip on the French Broad River in the Hot Springs structural window of North Carolina. Unfortunately, there are not very many photos of the rocks, as most were in shaded, overgrown forested areas. However, a fun and educational time was had by all.
A big THANK-YOU goes to our trip leader, Mark Carter of the North Carolina Geological Survey (NCGS). Mark's knowledge of the area is impressive, and he led an excellent trip. Special thanks also go to the staff of the Nantahala Outdoor Center (NOC) for giving us a safe and enjoyable journey down the river (and a good lunch, too!). Appreciation is also due to Richard Hopkins (Marrich, Inc.) for coordinating the arrangements for the trip and to Dr. Don Byerly (University of Tennessee, Department of Geological Sciences) for suggesting the trip.

---
All photos by Richard Hopkins or Brad Stephenson, unless otherwise noted.
Mark Carter (NCGS) gives us a proper introduction to the local geology before we hit the river.



Geologic maps, outcrops, rock hammers, hand samples....
Top: Barite deposits at Stack House and mylonites of the Ocoee Supergroup
Bottom: Cambrian-Precambrian contact at the ghost town of Runion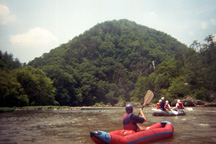 Top: The "Needle" outcrop (on the hill in the background) is a product of jointing in the Erwin Quartzite (Chilhowee Group).
Bottom: Hiking to and from the ghost town of Runion, all eyes are on the rocks of the railroad bed.



Lunch among the crossbeds (Chilhowee Group).

"Rollin' on the river...."
Top (Left & Middle): The rapid just before our lunch stop.
Bottom: Surprise Falls, within sight of the Hot Springs bridge.



The view from Lovers Leap, Hot Springs, North Carolina.
Left & Middle: Surprise Falls (see photos above). The town of Hot Springs is in the background.
Right: The Hot Springs Spa and Resort adjacent to the French Broad River.
---
| | | |
| --- | --- | --- |
| | | Page updated May 19, 2018 |