Gray Fossil Site - 2006 Summer Field Trip
Washington County, Tennessee
Sunday, June 25, 2006
Trip Leader: Larry Bristol
Paleontology Coordinator for the Gray Fossil Site
Department of Physics, Astronomy, and Geology
East Tennessee State University
Johnson City, Tennessee
---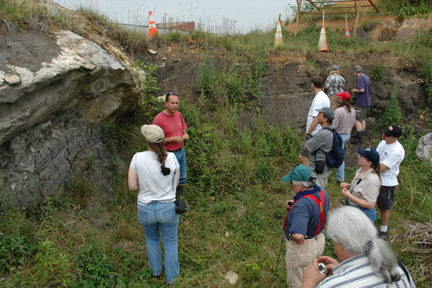 Larry Bristol (red shirt) presenting the geology of the Gray Fossil Site
to members of ETGS and the Tennessee Section of AIPG.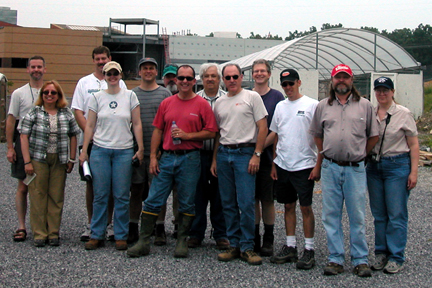 ETGS and AIPG members stand with Larry Bristol beside the future Gray Fossil Site museum,
which will be open to the public (at no charge) during the fall of 2007.
---
Members of the East Tennessee Geological Society and the Tennessee Section of the American Institute of Professional Geologists visited northeastern Tennessee&rsquos Valley and Ridge Province for a guided tour of the Gray Fossil Site (GFS). This world-class treasure is drawing international attention to the region. It was discovered by the Tennessee Department of Transportation during a highway realignment project. In addition to being a world-class scientific and educational resource, it is destined to become a major tourist attraction in the Tri-Cities region. The museum is scheduled to open during the fall of 2007 and will be free to the public. As we saw during Larry Bristol's excellent presentation at our May meeting, the GFS is truly a unique East Tennessee treasure.

All photos were made by Dr. Ed Perfect or Brad Stephenson.
Larry Bristol shows casts of fossils unearthed from the site, including a rhinoceros ulna (left) and a tapir skull (right).

ETGS members examine specimens from the site.

Viewing excavation from which rhinoceros fossils were recovered (left) and shelters (right) which cover additional areas of study. Yellow bags contain excavated material, which will be screened for smaller fossils.

The future museum in the background (left) occupies a small portion of the fossil deposit. At right, field trip participants get a closer view of one of the larger excavations.

ETGS members examine gray shale and carbonate boulders, thought to represent ancient sinkhole deposits.

Larry Bristol explains the site geology and demonstrates the nature of its sediments.

Geologists explore the fossiliferous sediments, which were being excavated for a road cut when the site was discovered.

Pile of sediment (left) await study following excavation from the museum building site. At right, Larry Bristol shows the excavation from which an alligator skeleton was exhumed.

Larry Bristol demonstrates the initial (coarse) screening process used to sift through all material excavated from the site.

Fossilized wood (left) is common, indicating that the site represents a forested environment. At right, geologists examine material excavated from the location of the future museum building.

More yellow bags contain large volumes of excavated material, which volunteers laboriously screen and examine for smaller fossils.
---
| | | |
| --- | --- | --- |
| | | Page updated May 19, 2018 |