Gray Fossil Site
Washington County, Tennessee
Saturday, April 15, 2017
Trip Leaders:

Harry Moore
Retired
Tennessee Department of Transportation
Knoxville, Tennessee

Don Byerly
Emeritus Professor
Department of Earth and Planetary Sciences
University of Tennessee
Knoxville, Tennessee
---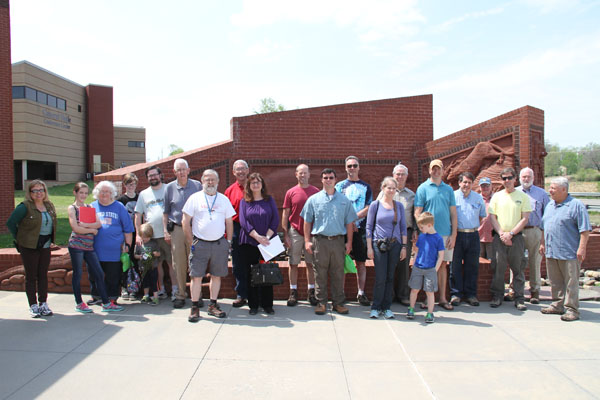 ETSG field trip attendees at the Gray Fossil Site
---
Members of the East Tennessee Geological Society followed a geology road log from Knoxville to the Gray Fossil Site, traveling I-40, I-81, and I-26 through northeastern Tennessee's Valley and Ridge Province. During our 2006 field trip, we experienced the Gray Fossil Site only six years after its inadvertant discovery during a Tennessee Department of Transportation road construction project in 2000 and one year before the museum opened in 2007. This trip allowed us to tour the museum and get a behind-the scenes look at the laboratory where specimens are stabilized, categorized, and prepped for display and the collections area where they are archived for future study. In addition, the small field area from which the many fossils were excavated was toured.

Photos by Brad Stephenson.
Museum entrance sculpture by General Shale Brick.



ETGS member and field trip leader Harry Moore (left) is retired from the Tennessee Department of Transportation and was instrumental in recognizing the significance of the Gray Fossil Site and working to preserve it.



Rhinoceros (left) and alligator (right) fossils have been excavated from the site.



Museum Registrar April Nye leads ETGS members on a tour of the laboratory.



Elephant pelvis (left) and mastodon tusks (right).



Mastodon skull with teeth (left) and tusk (right).



Elephant mandible (left) and ETGS members observing volunteer lab workers (right).



Fossilized rhinoceros femurs (left) and upper/lower jaws (right).



Museum Registrar April Nye led a fantastic tour of the archival storage area.



Fossilized bones of red panda (left) and young alligator (right).



Visiting the Gray Fossil Site excavation areas.



Left: Excavating for "fossils" in the museum.
Right: Esteemed ETGS members Bob Hatcher, Don Byerly, and Harry Moore.

---
| | | |
| --- | --- | --- |
| | | Page updated May 19, 2018 |