---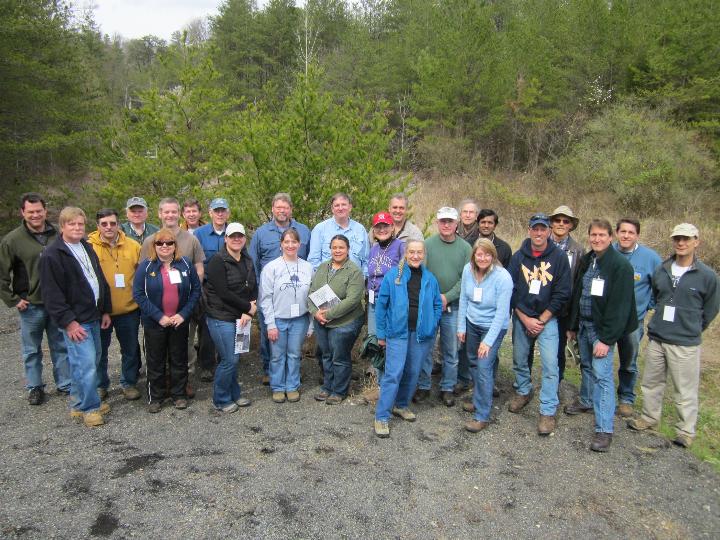 ---
Professor Bob Hatcher guided ETGS to multiple rock units that were of regional geological significance to the bedrock geology of the Oak Ridge area. Bedrock in the Oak Ridge area ranges in age from Early Cambrian to early Mississippian and two major unconformities are present.
Stop 1 began at Clark Center Park which exhibited the best continuously exposed section of Middle to Upper Cambrian Consauga Group and Lower Cambrian Rome Formation rocks in the area. Stop 2 presented the Middle Ordovician, fossiliferous, Witten and Moccasin Formations.Through a nice hike, Stop 3 provided a visual exposure of the nearly complete section of the Knox Group rocks including all markers that characterize the different formations. At Stop 4, Bob Hatcher defined the 8 m.y. erosional boundary between the Chickamauga and Upper Knox Group rocks. Stop 5 depicts shale sandstone and red oolitic iron ore (hematite) that was produced from the last sediment eroded from the Taconic mountains. A classic expsoure of the Cambrian Rome Formation was visited in Stop 6 (note the variety of rock types and shale colors). Stop 7 was not actuaully a stop but involved viewing bedrock and features of the Rome and Knox Groups that make the Valley and Ridge while enroute. Stop 8 depicted bedrock that was very representative of the sequence of rock that occurs throughout the Appalachian region and included sandstone, shale, and coal deposited in a swamp as part of a great delta that formed from erosion of the Appalachain Mtns. The last stop, Stop 9, showed rocks of the Chattanooga Shale and overlying Ft. Payne Formation (shale and siltstone) equivalent to the Marcellus Shale in West Virginia and Pennsylvania.
ETGS greatly thanks Bob Hatcher for a fantastic guidebook and corresponding field trip!
---
Click the links below to see photographs at each of the field trip stops.
| | |
| --- | --- |
| Stop 1 | Rome Formation and Conasauga Group Rocks at Clark Center Park |
| Stop 2 | Chickamauga Group (and Rome Formation) at Solway Bridge |
| Stop 3 | Knox Group along CSX Track near TVA Bull Run Steam Plant |
| Stop 4 | Top-of-Knox Unconformity at Edgemoor Road-Melton Lake Drive Intersection |
| Stop 5 | Silurian (~440 Ma) Rockwood Formation on Melton Lake Drive |
| Stop 6 | Rome Formation at Moores Gap Church on Moores Gap Road (I-75 Frontage Road) |
| Stop 7 | Relationships along I-75 from Clinton to Caryville Exit |
| Stop 8 | Pennsylvanian Rocks across from Recycle Center on TN 330 East of Oliver Springs |
| Stop 9 | Rocks Exposed at the Southwest end of County Club Estates in Oak Ridge |
---
| | | |
| --- | --- | --- |
| | | Page updated May 19, 2018 |